Answers to Your Biggest Home Theater Questions
Design Tips and More from Your Local Home Theater Company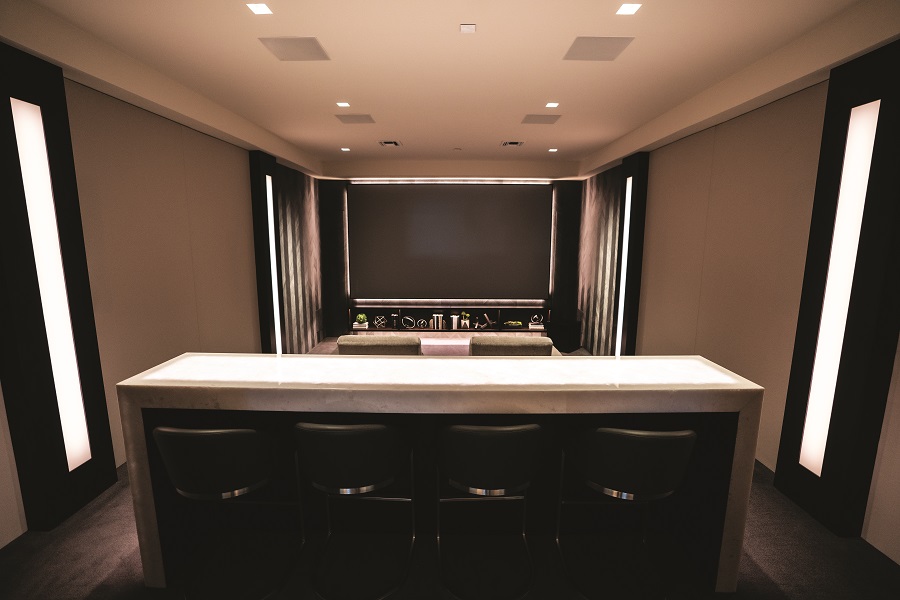 From aspiring DIY-ers to the Do-It-For me variety, home theater installations always inspire a flurry of questions. During our consultations, we encourage our clients to ask as many of them as possible. For each question we get, we glean our client's priorities, pain points and concerns.
Our job as the go-to home theater company in Dunwoody, GA and the greater Atlanta Metropolitan Area is to give our clients all the answers they need and guide them along the design and installation process, so the result is their dream viewing environment.
Rarely do we get the same questions from job to job. They tend to be as unique as the client. This blog, though, highlights some of the most common ones as a great starting point for anyone interested in a brand-new home cinema or theater upgrade.
SEE MORE: Why Trust Your Home Theater Design to GHT Group?
What Home Theater Projector Should I Buy?
One of the biggest perks of a dedicated theater is the big-screen experience provided by a projector-and-screen combination. But it can be challenging to gauge which projector is right for you. Going through the options can be downright intimidating: LCD vs. LDP imaging, Laser vs. LED projection, short-throw vs. long-throw. How do you know which to choose?
There is no one-size-fits-all answer here. Selecting the right projector will come down to the amount of ambient lighting, the placement for your projector, the size of your screen and room, the content you want to watch, and the image resolution you want. A home theater company will consider all these variables when finding the ideal projector for your installation.
What Speakers Should I Use for My Theater?
While all our installations feature high-performance speakers, the space will dictate the precise models. A bigger room may require more powerful speakers to fill out the room. Design limitations may also mean you go for architectural in-wall and in-ceiling speakers instead of traditional tower and bookshelf models.
Not only should you consider space limitations, but how you plan on using the theater. Immersive audio is the priority in any theater, but what if you want to listen to music? Listening to speaker demos—like the ones featured at GHT Group's showroom—is the best way to find a speaker with the sonic character that best suits your musical tastes.
Lastly, don't forget to include a subwoofer in your setup. Bass performance, especially when it comes to movie soundtracks, is vital to your experience. Loudspeakers—even high-end ones—can't deliver film low frequency effects consistently without some distortion. Opting for one or more subwoofers is the best way to round out the sonic environment in your theater.
How Many Seats Can I Include in the Theater?
Our clients often overestimate the number of seats they can fit into their theaters. They're too focused on how many seats physically fit into the room without considering the overall home theater design. This means that seats end up too close to rear or surround speakers and ruin the soundstage. A seat that is placed too wide may also be out of an optimal viewing angle. Too close, and the image may be pixelated or cause eye strain on the viewer. Like with many aspects of a theater, it is about creating an ecosystem where everything—audio, video, seating, lighting, etc.—works seamlessly together.
Can I Use a Streaming Stick in My Theater?
Private theaters only had to worry about hooking up to a DVD, Blu-ray and cable box in the past. Entertainment options have grown exponentially in the past decade as people turn to streaming to get instant access to thousands of movies and TV shows. It's become paramount that home theaters incorporate streaming media into their design as well.

Getting back to the original question regarding streaming sticks: the short answer is yes. Streaming sticks like Fire TV, Roku, and standalone devices like Apple TV can connect directly to your projector or AV receiver. Network-enabled AV receivers can also bring audio streaming capabilities into your theater without the need for a streaming device.

The key is letting your home theater company know which services you use most so they can ensure the platform(s) you choose gets you access to all of them. For example, Roku TV may not have access to HBO Max currently but is one of the few to feature Xfinity's Streaming App. You may want to have a few different platforms included in your theater and control system to watch what you want.

Are you interested in learning more about home theaters? Subscribe to our monthly newsletter for tips, product reviews and more. You can also reach out to us directly for your installation needs by giving us a call, filling out our contact form or chatting with us below.

No video selected.