3 Ways Home Theater Designers Create Immersive Home Cinemas
Home Theaters Are All About the Details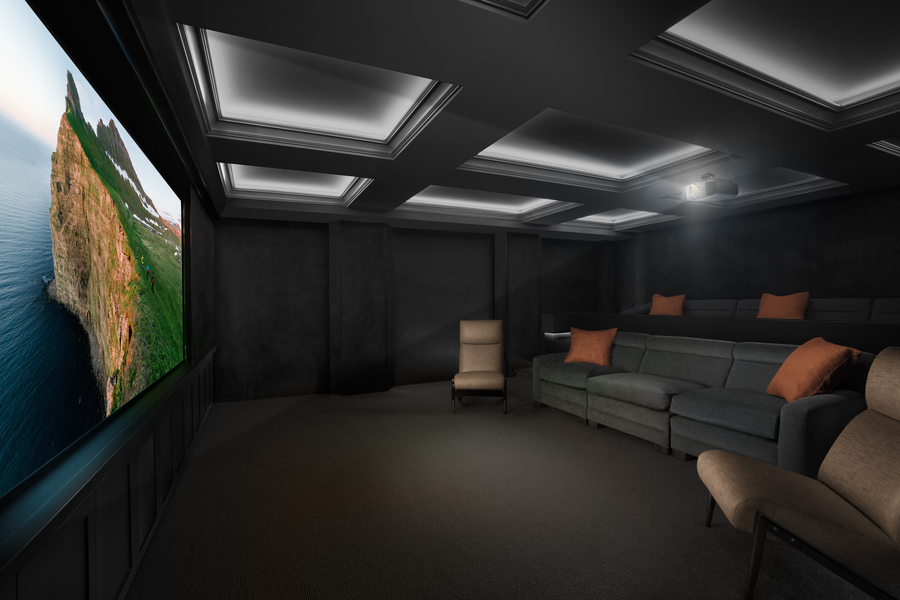 Home theaters are familiar, as they have been around since the late 1980s. Over the years, however, a sea of changes in the technologies that power home cinemas has created many opportunities for customization, from automation to lighting to audio. The basic home cinema of decades ago has transitioned from an analog to a digital affair for sight and sound technology.
Technologies like 13-channel immersive surround sound, light-absorbing screens, projectors that automatically adjust to multiple screen formats, and LED lighting have created new opportunities for home theater designers to stretch their creativity. Yet, in the end, a great home theater is all about attention to small details. Here are three ways home theater professionals deliver exceptional entertainment experiences by sweating the details, large and small.
SEE ALSO: 5 Deadly Sins that Make Home Theater Designers Cringe
Seating
What is the seating layout you want in your theater? It doesn't matter whether it's individual electric recliners, couches, one level, three rows, or tiered seating; the layout will drive the details that make or break the experience. The seating will dictate the screen's size, height, and position. It will also be the basis for designing the speaker layout for the multichannel surround audio system. It might call for dual or quadruple subwoofers, whether freestanding or installed in the walls.
Don't be surprised if the first question the home theater designer asks is, "How many people do you want to accommodate in your cinema, and how?" A home theater is not just for those sitting in the sweet spot; it's supposed to be an immersive experience in every seat.
Acoustics
Even if you have the perfect rectangular room with the right ceiling height, it doesn't guarantee that it will sound perfect. Every space needs help perfecting the sound, particularly with today's complex, three-dimensional film soundtracks. Again, the sound should be excellent at every seat, not just some. Home theater designers rely on acoustic treatment of different types for sound absorption and diffusion to cure sound problems, whether uneven bass, echoing, reflections, sibilant highs, or poor surround performance.
Lighting Management
There are two aspects of lighting management. One is the control of natural light (if necessary), and the other is the lighting in the theater room. If your theater is a dedicated space with no windows, you don't have to worry about natural light. But if it has windows, you have choices. Many homeowners cover the windows completely in the room's design. But others may want windows so as not to watch an afternoon football game in darkness. Motorized blackout shades can block natural light when necessary, but a light filtering layer might be used for daytime viewing. Designers can specify light-rejecting screens for homeowners who like to use their theater with ambient lighting.
The other aspect of lighting is ambient and accent lighting for the theater itself. Fiber optic lights overhead can add a decorative effect like twinkling stars. Sconces and/or floor lights along walls or built into the seats offer soft illumination for navigating in and out of the darkened theater. Finally, designers integrate lighting control for all the lighting in the room, including motorized shades, and combine it with a comprehensive smart home automation system for easy control of the entire theater environment.
Are you looking for a home theater designer to create your dream home cinema? GHT Group has been crafting exceptional home theater experiences in metro Atlanta for over three decades. Contact us here or click the chat box below to connect with one of our experts quickly. We look forward to working with you!