Curators of Cutting-Edge Technology Solutions
Our people and the services we provide define our firm. We take pride in delivering a first class client experience.
Who We Are
Founded in 1989, GHT Group (formerly Georgia Home Theater) is a home theater, smart home, and AV company that offers custom technology solutions to homeowners and businesses throughout Atlanta, GA, Alpharetta, GA, Inlet Beach, FL, the Florida Panhandle, and the southeastern United States. For more than 30 years, we have prided ourselves on providing world-class services ranging from home theater installations to outdoor entertainment setups, and home automation systems to entire building automation arrangements. Our team in Santa Rosa Beach and Atlanta feature more than 40 dedicated installation and service professionals, which includes in-house programmers, technology maintenance staff, security experts, and more, with more than 500 years of combined experience in the industry. When you need help with technology, we are prepared and at the ready to assist you. GHT also operates a state-of-the-art showroom in Marietta dedicated to showcasing some of the most high-end custom technology available to you. No matter your home or business technology needs, our team can provide a personalized expert solution for you. We are your source for making your Atlanta-area home or business the smartest on the block, whether in Alpharetta, East Cobb, Vinings, or beyond.
Our Mission
GHT Group strives to provide professional, tailored and expert support to our clients. From the moment you first enter our showroom or speak to a member of our team, we aim to provide you with world-class service on a personalized level. We want all of our clients to feel comfortable and welcome when partnering with GHT Group for your custom technology needs. We strive to offer the best expertise and advice while delivering an enjoyable experience – whether at our showroom or during an installation at your home or office. Of equal importance to our thorough and careful projects is our follow-up maintenance services. When you partner with GHT Group for your home or business technology needs, we strive to always be an available resource for you – regardless of the time or day.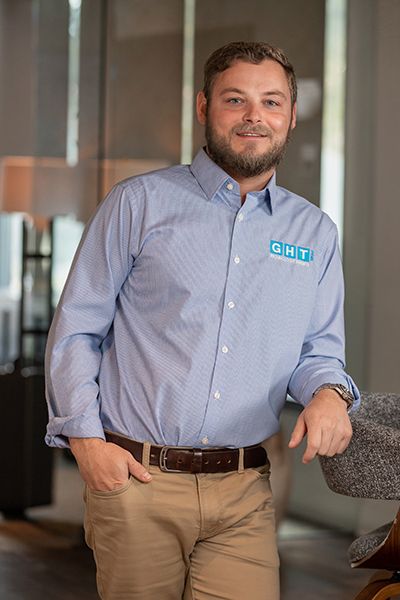 Kenneth Ellis
President
Kenny Ellis is a dynamic leader and entrepreneur in the audio and video industry, currently serving as the President of GHT Group. With a deep passion for delivering exceptional customer experiences, he has successfully grown GHT Group into one of the leading custom home theater and home automation companies in the Southeast.
Kenny is a devoted family man and is married to his wife Lauren. They have a son named Easton, who is the light of their lives.
When he's not leading his team at GHT Group, Kenny enjoys following Georgia Tech Football and supporting the team. He also loves spending time in the great outdoors, including hunting and skiing. His love of nature and adventure is reflected in the innovative designs and solutions that GHT Group delivers to its customers.
With over two decades of experience in the audio and video industry, Kenny is a recognized thought leader and expert in the field. He has been instrumental in developing and implementing cutting-edge technologies and solutions that have transformed the industry and enhanced the customer experience.
Under Kenny's leadership, GHT Group has earned numerous accolades and awards, including being recognized as one of the top 20 integrators in the United States. He is passionate about delivering exceptional service and value to his customers, and his unwavering commitment to excellence has helped establish GHT Group as a trusted partner for luxury homeowners, architects, and designers.
Eric Joy
Vice President
Eric Joy is a seasoned executive in the home technology industry, currently serving as the Vice President of GHT Group. With over two decades of experience in the industry, he has established himself as a respected leader and influencer.
Prior to joining GHT Group, Eric spent several years at Bowers & Wilkins, where he served as the National Account Manager. During his tenure, he played a critical role in driving the company's growth and expansion in the United States. Notably, Eric handled Bowers & Wilkins' largest account on the planet, which was a testament to his exceptional leadership and management skills.
Eric is a proud member of the Home Technology Specialists of America (HTSA), a prestigious trade organization dedicated to advancing the audio and video industry. He served as the president of HTSA for two consecutive years, in 2021 and 2022, and has been actively involved in shaping the future of the organization.
Eric received his education at Auburn University, where he developed a strong foundation in business management and marketing. In his free time, he enjoys listening to music, with his favorite band being the Rolling Stones. Eric's passion for music has been a driving force behind his success in the custom integration industry, and he continues to be an influential figure in the industry today.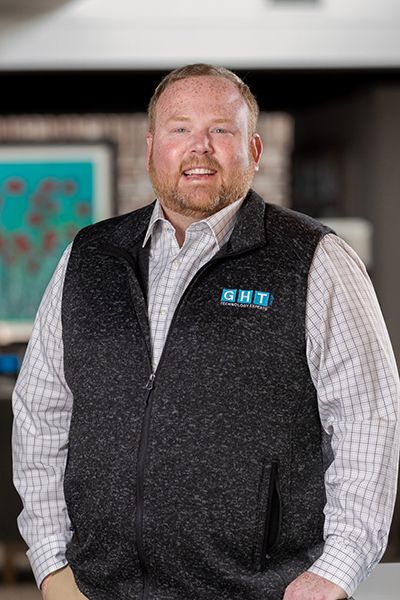 Chris Early
Operations Director
Chris Early is an accomplished Operations Manager with a strong background in the audio and video industry, currently working at GHT Group. With over a decade of experience in operations management, he is a highly organized and effective leader with a passion for delivering exceptional customer service.
Chris and GHT Group President, Kenny Ellis, go way back as they were high school classmates. Chris has been an integral part of the GHT Group team for several years and has played a key role in its success.
Chris is married to his wife, Allyson, and they have two sons, Redding and Luke. When he's not working, he enjoys spending time with his family and cheering on the University of Miami Football team. Chris is an avid sports fan and enjoys staying active through various outdoor activities and woodworking.
As the Operations Manager at GHT Group, Chris is responsible for overseeing the daily operations of the company, including logistics, inventory management, and customer service. He is passionate about providing excellent service to customers and ensuring that all projects are completed on time and within budget.
Chris's dedication to excellence and his ability to lead and motivate teams have been critical to GHT Group's success. His commitment to delivering exceptional customer experiences and his passion for innovation have helped establish GHT Group as a leading provider of custom home theater and automation solutions in the Southeast.
Credentials
Control 4 - Diamond Dealer

Control 4 - Certified Showroom

Control 4 - Pinnacle Dealer

Control 4 - Master Programmer

Crestron - Digital Media Certified

Lutron - Homeworks QS Certified

Lutron - Radio RA Level 1 & 2 Certified

Lutron - Sivoia QS Shading Certified

Cisco - Certified Technician

Nest - Certified Technician

THX - Certified Integrator

Polycom - Certified Integrator

CEDIA - Certified Integrator

CEDIA - Certified Designer

McIntosh - McMasters Certified